I am honoured and proud to have been nominated as the Conservative Party candidate to contest the Tong Ward in the Bradford South constituency for the Local Elections to be held on May 6th 2021 in the Bradford Metropolitan District.
I look forward to the help and support from the residents of Tong ward, and of course all my friends and colleagues from both near and far, in order to win in this election.
If you are able to lend support with the campaign, especially during this difficult times with the Covid-19 pandemic, then please do contact me on my email harry@harryboota.com or on the campaign number 07398977750.
Thank you
Although the country has spent the best part of a year in the grip of the Covid-19 pandemic, the Bradford Conservative Group at the Councils had produced our Manifesto for the elections in May 2020. I think some aspects are relevant as we go into this year's elections, and so I have I have reproduced it here for you.
If you have any queries or questions about this, or any other issue you wish to bring to my attention, then please contact me and I shall be only happy to help.
Also see a letter from our former Conservative Group Leader Cllr. John Pennington. Also attached to the manifesto below.
Click on the relevant picture to read the PDF.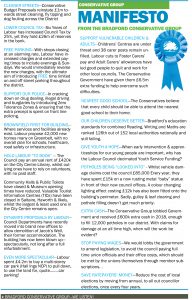 Conservative Manifesto and Letter from former Group Leader Cllr. John Pennington.