WELCOME TO HARRY BOOTA'S ELECTION WEBSITE.
I am honoured and proud to have been nominated as the Conservative Party candidate to contest the Eccleshill Ward in the Bradford East constituency for the Local Elections to be held on May 2nd in the Bradford Metropolitan District.
I look forward to the help and support of all my friends and colleagues to win in this ward, especially anyone living in the Eccleshill & the surrounding areas.
If you are able to lend support by walking the streets with me, (door knocking) or are able to deliver leaflets, then please do contact me on my email harry@harryboota.com or on my campaign number 07398977750.
Thank you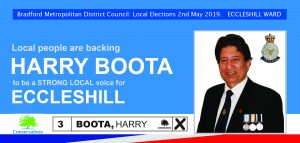 The Bradford Conservative Group at the Council has produced our Manifesto for Bradford area.
I have reproduced it here for you, if you have any queries or questions about this, or any other issue you wish to bring to my attention, then please contact me and I shall be only happy to help.
Also see a letter from our Conservative Group Leader Cllr. John Pennington.
Click on the relevant picture to read the PDF.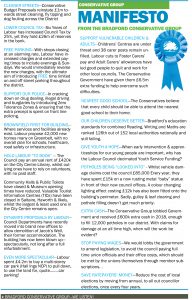 Conservative Manifesto and Letter from the Group Leader